this evening i went to the
Shape of Things to Come
graduate exhibition
(those that graduated 2010) at The Block in the QUT Creative Industries Precinct. so informative, so mind-opening (though i had to get my wonderful partner (in crime and lrv) to explain most of the artist statements to me - my brain has been in hiberation for the past 12 months and is still coming to terms with its new-found use), so eye-opening. very visually tactile. some of my favourite features are highlighted below.
afterward, i attended the equally entertaining + stimulating
Indie Gets Serious
talk / presentation in the same precinct with a (soul)mate of mine. thanks to the gaming industry knowledge that has been passed onto me in the past year, i understood and was able to appreciate / take a lot away from it - some issues / words of advice non-gaming related.
at the Shape of Things.. exhibition, the fashion pieces by Shenaz Engineer were arguably my favourite part - or were at least the work/s that made me gasp out loud the most. to view each up close was extraordinary, and i believe completely necessary - the attention to detail in the perfect stitching / placement of every single piece of fabric / seam / print was, for some reason, unexpected. i definitely picked up on a few
Alexander McQueen
vibes, though her view was still obviously quite independent - for example i think i noted a mirrored image of a washing machine / lamp-lit hallway within one of the screen-printed bodysuits - and i'm sure the fact that Shenaz partially INTERNED FOR THE MAN / HOUSE HIM/ITSELF doesn't hurt. though i enjoyed that the prints were quite obscure and somewhat unintelligable; their actual contents most likely unbenknownst to most onlookers..
as i seam to mostly love fashion that seems to have the perfect balance of masculine v feminine, hard v soft..the pieces really spoke to me.
i took some webcam-quality images on my phone, but think it is in the best interest for all involved to just reference some externally sourced images: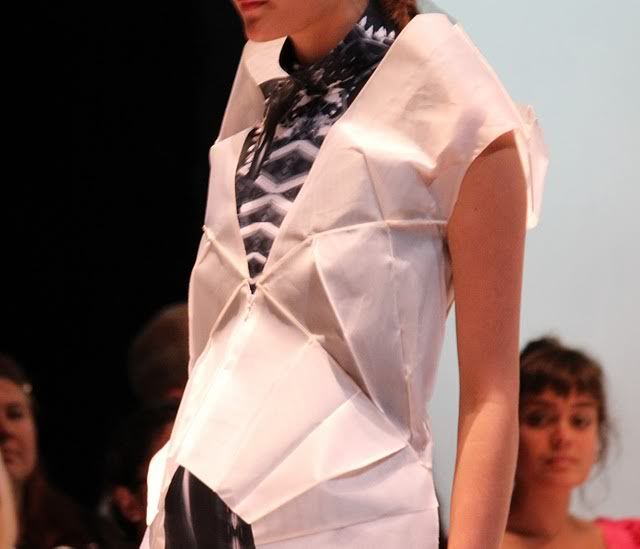 (detail images
via
)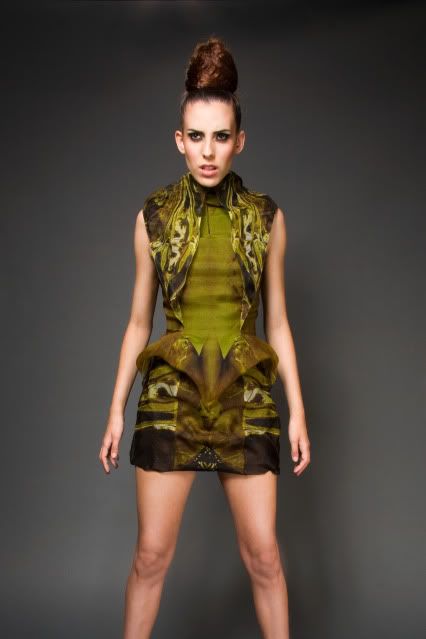 (image
via
)
'
this collection was based on the concept of a kaleidoscope, and basically applying that to a world perspective. not analyzing the kaleidoscope itself, but seeing things in a different perspective, and applying it to the world. a lot of the print works included in the collection are actually photographs i took on my travels around the world.'
- Shenaz Engineer
i found it a little difficult to source images of some of the floatier pieces - but they can be viewed in pretty good quality below:
i also really enjoyed the
Aurelia
jellyfish-inspired lighting piece designed + created by QUT graduate Interior Design students Ian Knight, Claire Mören, Kate Tuffley and Christina Willington.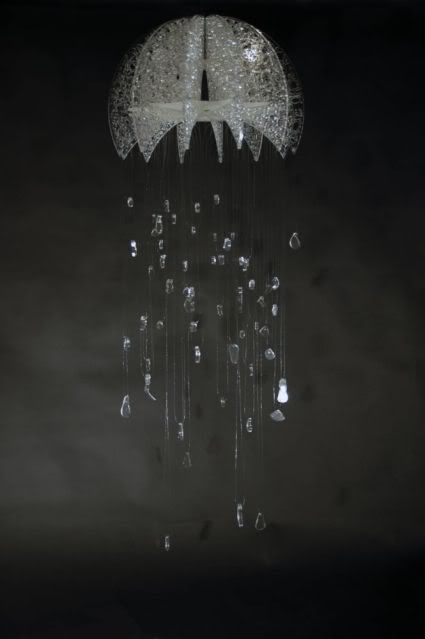 '
drawing on the concept of form following function, the design exploration process began with examining algorithmic and geometric patterns, both of which can have a simplistic or complex result. the process led to exploring the coral reef with its form and pattern – the inspiration to take the form of the coral reef came from Nervous Systems who takes a natural organic form and implements the design pattern with algorithmic techniques.
the design was roughly inspired by a London seafood restaurant that prides itself on its seafood-based interior design; Olivomare.
the interior was decorated + designed by Architect Pierluigi Piu, features an M.C.Escher print of repetitive fish on one wall, and has a ripple-like walled section in another area.
the restaurant also notably features '
references to ocean life [that] continue with lighting overhead that is diffused by a thin nylon net, which appears to be luminescent tentacles, evoking a stray shoal of jellyfishes or sea anemones. there is also a room divider which looks like an enlarged fishing net, and a small dining room at the back clad in a wavy relief meant to evoke the sandy surface of the beach when moulded by the wind. finally, a trip to the washrooms involves entering into a surrounding of red branches from a coral reef.'
. conceptual fashion design is certainly up my alley, so there was no reason for me to not enjoy this thematic restaurant / interior design also !
XXXXXXXX
i've often thought that if i didn't choose Fashion as a career path, that Interior Design would be something to seriously consider as an alternative. i remember forever designing my dream home, draft after draft, for years in what i think i remember to be around primary school age.. though i think i would have an issue with customer satisfaction; i would want to create houses as
i
would like them to appear, rather than according to the tastes / instructions of clients..
SO WE TOo
by Marcel Daniels was another piece that my brain needed a little helping kick-start on to initially grasp the concept behind the work.. though it was visually attractive in its own right, i was glad to understand the idea. basically (or as far as i can / could gather), Marcel wanted to communicate the impact / effect that colonisation can have / has had / does have on small, previously un-touched, villages and non-urban areas of the world.
SO WE TOo depicts '
..a South African township..made from paraffin wax..the sculptures are displayed on a highly reflective acrylic sheet.'
the idea of the reflectiveness was so that, as a viewer of the work, in leaning over it and looking closely, your reflection is cast onto the display - thus changing, influencing and affecting the sculpture / township. this reflects affects of colonisation.