in continuing my interview series, i also asked
Inside In, Inside Out
's Fabliha and Tasfia Reza from Brisbane (though currently en route from Korea + Japan) to share their fashion and blogging-related musings with me - and of course, with you.
their blog was one of the very first Brisbane-based personal fashion sites that i stumbled across in 2010, and i have since sent intermittent emails back and forth to Fabliha..always in complete admiration of their beautiful styling and new purchases.
it is also one of the few blogs that truly keeps me on surprised. whenever i think i have their style pinned down, i am surprised by a burst of colour, or a silhouette i had never before imagined.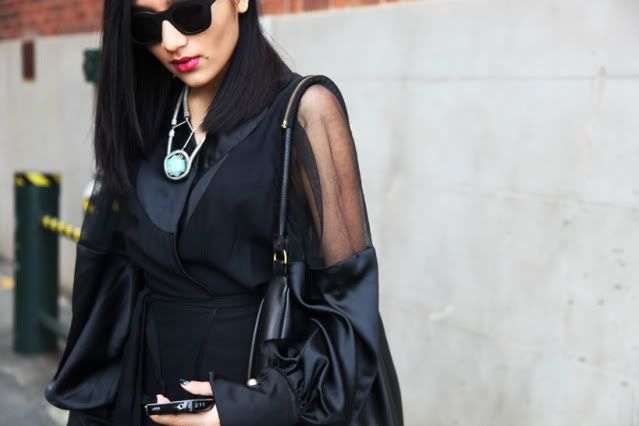 i have stuck with the same questions across all interviews, more or less, throughout this series as a way to compare the varied responses.
their joint + eloquent responses are as follows..
why did you decide to start a blog?
i didn't put much thought into it when i began my blog – it started as a means of sharing my holiday photos and photography with my friends. over time as i became more and more interested in photography, our blog evolved into a fashion blog and i suppose from then on we took blogging somewhat more seriously.
is there a story behind the name 'Inside In, Inside Out?
in a subtle way, it is what i believe fashion ought to be – a way of expressing the internal ('inside') self to the external ('out'side) world through a medium that is accessible to everyone.
do you have a way of categorising your wardrobe? (eg. colour / style / season)
one thing that i find unsettling is outside clutter. i always find myself organising and categorising everything that can be organised or categorised. my clothes are distributed between two clothing racks and my closet. one of my racks house all my current season, day to day clothing, one my more indulgent 'going out' clothing and my closet stores all the clothes i probably won't be wearing that season.
the organisational paradigm within these racks/closet is always changing. at the moment it is arranged in terms of colour, the kind of clothing (e.g. dress or jacket) and then sleeve length.
what inspires your outfits on a day-to-day basis?
just about anything and everything – our mood, fashion blogs, street style, magazines, people on the street etc.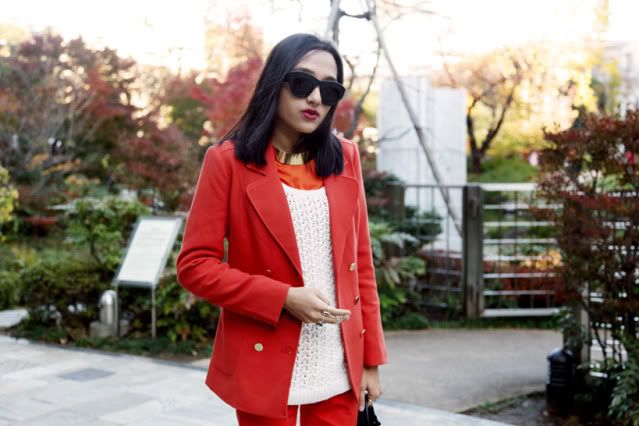 do you tend to mostly buy new or vintage pieces?
i have next to no vintage clothing. mostly because i have no skills or luck in shopping for vintage clothing.
was there a particular person / event that started your interest in fashion?
i'm not quite sure – i think it was a bit of a progression.
i became interested in photography, then fashion photography, and then just fashion itself.
do you mostly follow local or international blogs?
a mixture of both – i love local blogs because they tend to be more accessible and relatable. nonetheless, there are also some incredible international blogs out there that we follow eagerly.
has your personal style evolved or changed as a result of beginning your blog?
i couldn't say if it is the result of starting our blog, but it has definitely evolved through the course of our blogging.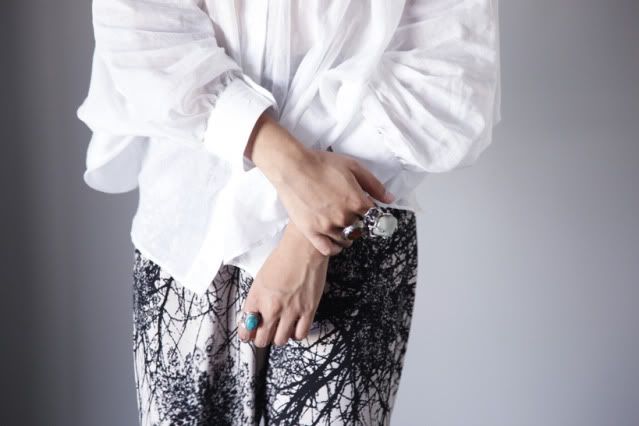 what characteristics do you believe make a successful blog?
a fresh, novel, unique perspective, a flourishing bank account and ample free time
– the latter two we unfortunately lack somewhat!
how much time do you generally spend on putting together each post - do you have a particular strategy to your blogging?
honestly, i don't put too much thought into it.
daily we wear what we like (irrespective of the existence of our blog)
and if we feel that we are wearing something interesting or doing something interesting we'll decide to photograph it and share it on the blog, as simple as that.
what do you think your point of difference is to all of the other fashion blogs out there?
i know that is probably the most cliché response that i can give, but i believe that our style is truly unique. unlike many other fashion blogs, i believe our style is rather individual and does not just prescribe to the interests of a particular fashion 'niche' but a fusion of many of them. also, i don't think we prescribe to 'trends' like many other blogs – although of course there are innovations in every season that we tend to fall in love with.
what have you found the most difficult during your blogging experience so far? are there any reasons why you would not encourage other fashion enthusiasts to begin their own blog?
definitely building up a decent readership and getting my blog known. also, being so busy makes it difficult to constantly conjure up new and interesting content. despite that, i cant think of any reason to discourage other fashion enthusiasts to begin their own blog.
if you had unlimited money, do you think your style would change?
i don't think it would change so much but i suppose it would become far more refined in its own context. could wear more of the expensive designers like Givenchy and Rick Owens that i can only admire from afar – then not only could i wear clothing inspired by them, but actually the real deal.
are you influenced by any particular designers, or more so by street style?
probably an amalgamation of both. but
in terms of particular designers, we are more inspired by their aesthetic in a particular season than their overall, underlying aesthetic.
does the style of the city or country that you live in affect your choice of outfit?
definitely. i would have to say that we are probably most comfortable wearing local designers. plus the warmer Australian climate tends to restrict our outfit choices quite a bit.
(all images courtesy of
Inside In, Inside Out
)