so i found one of my final essays from last semester, from a subject centred around evolutionary changes in fashion / beauty / style over the ages. for this particular assessment, we were asked to compare or contrast a personal area of historical interest vs a similar aesthetic in contemporary fashion, using a main / known fashion-related theory - whether it be in a historical / cultural / sociological / etc context..
i didn't get the greatest grade for this piece, but i learned some interesting things, so thought i'd share here.
i personally reviewed Grecian drapery vs ~modern draped dress
(in-text references omitted)..
XXXXXXXX
'
the fashion industry has become a system built on self-referential trends; particularly within the 20th and 21st Centuries. comprehensive analysis of dress and opinions surrounding beauty from eras bygone can therefore aid in the development of a true appreciation for contemporary fashion trends. through use of this analytical methodology, the sociological motives behind certain aesthetics can become more transparent.
this essay will primarily aim to highlight contrasts and comparisons between Ancient Grecian ideals of beauty and dress and that of similar classically draped garments within contemporary fashion; in relation to aesthetics and other contextual elements.
the secondary purpose will be to detail the evolution of social connotations associated with draped dress, from the style's origin to those existing within contemporary society.
Veblen's theory of conspicuous consumption and Eco's historical reflection on beauty will provide context and explanation for the unchanged celebration of the female form as continued unabated until the present day. furthermore, these theories will highlight the aforementioned evolution in which, over time, women have emerged with a greater sense of independence, self-importance and sexuality, rather than existing purely as passive, ornamental objects; as in Ancient Grecian society. due to this positive empowerment and newfound self-worth, the modern interpretation of classical draped dress will be argued to be of comparatively more social significance than the Ancient equivalent.

a direct aesthetic correlation can be drawn between the dress of the Ancient Greeks and a similar movement that began at the beginning of the 20th Century, as most notably pioneered by fashion designers Madame Grès and Madeleine Vionnet. the two female designers are most identifiable by their innovative use of the bias cut, drapery, cinching at the waist and elongated, feminine silhouettes. a paralleled application of classical drapery has continued with significance to this day, with designers such as Donna Karan and Hussein Chalayan taking part in the timeless style. the Ancient Greeks similarly developed two garments that grew to become staples for both men and women. both pieces were primarily created from rectangular base modules. the chiton was drawn in at the waist with sleeve allowances on the sides. similarly, the peplos garment had a cinched waist and sleeveless sides, along with an additional folded section at the top. the chiton was worn by both men and women, while a third and less frequently worn garment, the himation, was an additional cloak-like option as worn by both men and women.

the Greeks focussed on a lack of wastage within garment creation. only the amount of fabric as was mathematically necessary was initially woven, while the fabric was then used in its entirety, with minimal cutting. this economical approach to dressmaking was perhaps a result of the somewhat backward technology in existence at the time, though along with a lack of representation of machinery in Ancient Greek art, the practice could be argued to also allude to the ideal of harmonious, proportionate and accentuation of 'naturalness' as was celebrated as 'beautiful' at the time. art within classical Greece further embraced these qualities in ways such as while stylisations, such as muscular perfections, did exist within artistic interpretations of anatomy; bodily proportions were always truthfully portrayed. in sculptures, for example, subjective idealised beauty and proportions were defined in a way that appeared to be the most visually appealing, with little respect for mathematical symmetry.

one element of drapery that has changed over the ages is that the somewhat archaic use of heavy linen and woollen fabrics has since been discarded in place of lighter, figure-hugging jersey and silk weaves within draped garments. this has allowed a more functional and liberating approach to dressmaking for the modern woman, as adopted by Donna Karan, Hussein Chalayan and Madame Grès.




in the featured looks, each designer has adopted the trademark colourless hues of classicist dress, while also yielding similar shoulder coverage and an accentuated waist cinched slightly above the natural waistline; a detail that denotes the ancient silhouette. the addition of prosthetic hands embedded within the bust of the Chalayan gown could be seen to allude to the anatomical inspiration often encompassed by Ancient Greek dressmakers. [...] the ability to transcend trends because of their unrivalled awareness of the relationship between cloth and the body. aimple, modern, and timeless, Hellenistic style provides the template for the idealised female form - the constant muse of fashion. the muted colour of Ancient fabric would not have been intentional in its original use; however, the skin-like tones as adopted by Karan, Chalayan and Grès simply reiterate further this correlation as intended to be forged between the cloth and the wearer. Chalayan and Karan also denote more figure-hugging silhouettes than is depicted in the Ancient sculpture; perhaps as an accentuation on the sustained appreciation of the female form.

the ideal Athenian woman was seen as an erotic object intended for the male gaze and the ideal human form was intended to be at harmony with the cloth to such an extent that ideally it would become difficult to differentiate between the wearer's own flesh and the cloth itself. during that era, clothing was therefore simply an instrument in the process of creating these physical ideals. almost all attire for men in Ancient Greece was also applicable for women. when worn by a female figure, however, any particular piece of clothing adopted separate and more significant social implications than when worn by a male figure. this relates back to Veblen's theory of conspicuous consumption in which a great social insistence was placed on restrictive, figure-accentuating clothing that ensured the clothed woman was exempt from any potential capacity for physical labour or constructive employment. major figures in Ancient Greek society similarly wrote about women existing in this way as ornamental aspects of a community. they were expected to remain passive and inferior to men, and as if to further validate this societal position, women were continually compared to men in terms of physical and psychological prowess.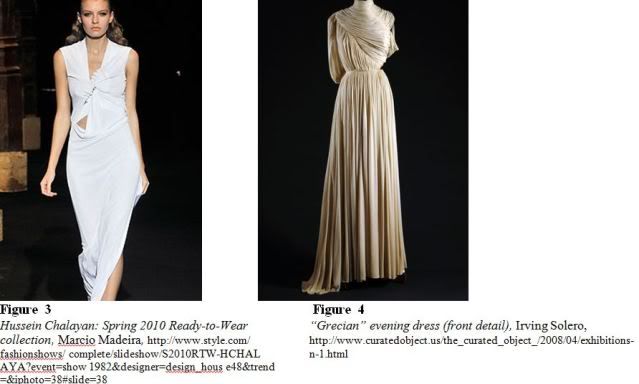 it is in these strict social ideals that Ancient Greek dress differs from contemporary interpretations of classical draping. designers today often use drapery as a means to liberate women from previous rigidity and artifice. while the intent to glorify a women's natural curves and anatomy have remained in modern designs, they have largely been designed by women. the customer of classically inspired fashion has therefore developed into an independent woman who is in control of her own sexuality and self-confidence, rather than existing and adopting beauty practices purely for a male gaze or audience. Donna Karan is said to design with classically aesthetic references in mind, though ultimately for the working woman; focusing essentially on practicality. today, therefore, the Greek 'goddess' ideal is connected to an image synonymous with a woman who is feminine, though simultaneously confident and empowered. moreover, the modern goddess has shed the archaic notion that femininity is linked to fragility.

from this analytical model of looking back into history and identifying social influences that have motivated trends, light can be shed on the significance of these trends as repeated within contemporary fashion. while there is value in the comparison of aesthetic and construction elements between two historical contexts, the true measure of significance lies within comparison and contrast of sociological trends existing in either era. for example, with the evolution of draped dress from the Ancient Greeks through to the 20th and 21st Centuries, it can observed that the modern interpretation of the trend coincides with the evolution and strengthening of women's place in society. despite the influence that Ancient Greek society and inventions of clothing archetypes has had within fashion history, women have contributed more over time to global society than any notions of beauty have. it is for this reason, as analysed in detail earlier, that modern versions of draped dress can be considered of more significance and influence on the evolution of fashion and overall collective societal intellect than draped dress within 4th and 5th Centuries B.C.
'
+ i should probably start including reference lists at the end of any essay work that i post here..
(- Barnard, M. (2007). Fashion Theory. New York, NY: Routledge.
- Chalayan, H. (2010). Spring 2010 Ready-to-Wear collection [Image]. Retrieved October 19, 2011, from http://www.style.com/fashionshows/complete/slideshow/S2010RTW-HCHALAYA?event=show1982&designer=design_house48&trend=&iphoto=38#slide=38
- Cosgrave, B. (2000). The Complete History of Costume and Fashion. London: Octopus Publishing Group Ltd.
- Eco, U. (2004). The History of Beauty. Rizzoli International Publications.
- Ferrero-Regis, T. (2011). KFB 106 Unspeakable Beauty: Week 2 – Draped Dress [Lecture Notes]. Retrieved from http://blackboard.qut.edu.au/webapps/portal/frameset.jsp?tab_tab_group_id=_2_1&url=%2Fwebapps%2Fblackboard%2Fexecute%2Flauncher%3Ftype%3DCourse%26id%3D_75294_1%26url%3D
- Grès, A. (1965). "Grecian" evening dress (front detail) [Image]. Retrieved October 17, 2011, from http://www.curatedobject.us/the_curated_object_/2008/04/exhibitions-n-1.html
- Kamitsis, L. (1996). Vionnet. London: Thames & Hudson Ltd.
- Karan, D. (2011). Spring 2011 Ready-to-Wear collection [Image]. Retrieved October 19, 2011, from http://www.style.com/fashionshows/complete/slideshow/S2011RTW-DKARAN?event=show2182&designer=design_house1&trend=&iphoto=23#slide=23
- Llewellyn-Jones, L. (2002). Women's Dress in the Ancient Greek World. Retrieved from Queensland University of Technology Course Materials Database.
- O'Neill, J.P. (2003). Goddess: The Classical Mode. New York, NY: The Metropolitan Museum of Art.
- Park, J. (2011). Classical Greek Dress and Contemporary Fashion. Berg Encyclopedia of World Dress and Fashion, 9. doi: 10.2752/BEWDF/EDch9087
- Schmitt Pantel, P. (1990). A History of Women: from Ancient Goddesses to Christian Saints. Cambridge, MA: The Belknap Press of Harvard University Press.
- Terracotta Statuette of a Draped Goddess. (ca. 5th–4th century B.C.). [Image]. Retrieved October 17, 2011, from http://www.metmuseum.org/Collections/search-the-collections/130017976)