my latest interview-ee / 'victim' is Alicia from Melbourne style blog
Sea of Ghosts
.
aside from the amazing aesthetic consistency / refinement displayed in the culture of her blog as well as her personal style, one of Alicia's defining points is her history as a jewellery designer. through this alone, a completely individual and intellectual point of view is voiced in each of her posts.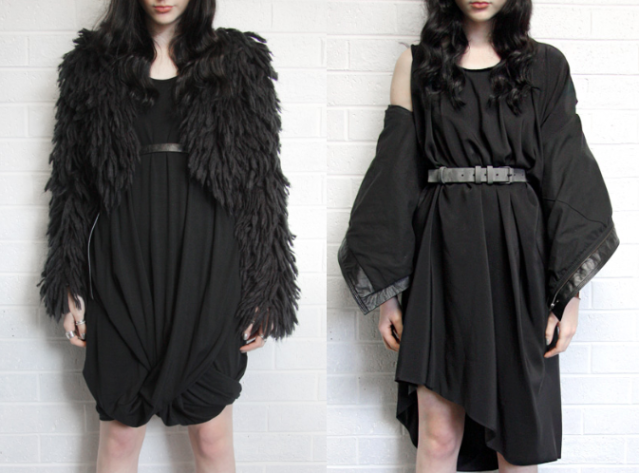 you can read her wonderfully in-depth answers here..
why did you decide to start a blog?
i began style blogging to document and try to refine my style after winning a subscription to Vogue in April 2008; but I've been blogging on and off since 1998.
is there a story behind the name 'Sea of Ghosts?'
it's a combination of two albums i love; "Mer De Noms" by A Perfect Circle which is Sea Of Names in English, and "Ghosts" by Nine Inch Nails. but
ghosts and the sea are two themes that come up a lot in many of my favourite songs
.
do you have a way of categorising your wardrobe? (eg. colour / style / season)
almost all of my clothes are black, so they're separated in style order; Dresses > Skirts > Shorts > Camisoles > Short Sleeve Tops > Long Sleeve Tops > Jackets. i hang almost everything except pants, knits and basic tanks and tees.
what inspires your outfits on a day-to-day basis?
the weather always dictates what i'll wear. once i know what the temperature is i tend to have one piece pop into my mind, then i work the rest of the outfit around it.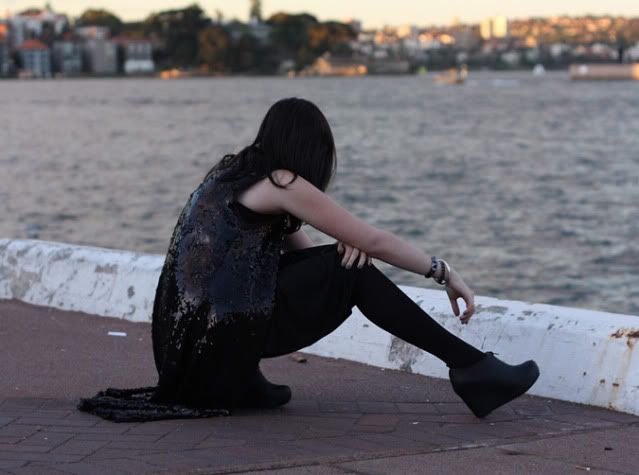 do you tend to mostly buy new or vintage pieces?
i don't really own vintage pieces anymore, although i do occasionally buy second hand things on eBay - they don't qualify as 'vintage'; most of my clothes are new.
was there a particular person / event that started your interest in fashion?
i guess discovering fashion and style websites; not necessarily fashion blogs but fashion forums and sites like style.com. before that, it was more the thrill of shopping i enjoyed than a particular interest in style.
do you tend to follow more local or international blogs?
more international because
there are fewer local style blogs that resonate with my own style. i don't really consume blogs that don't cater to my style on a regular basis
unless i'm friends with the author.
has your personal style evolved or changed as a result of beginning your blog?
absolutely, but that was the point of blogging for me in the first place.
i spent my first two years of blogging just trying to pin down my aesthetic and blogged a lot about that evolutionary process.
what characteristics do you believe make a successful blog?
you know, i don't really know what it is that propels some blogs to certain levels of success. generally the bloggers who are most successful seem to be able to pick up on trends at the cusp, which keep them exciting and fresh to readers. their photography is usually clean and crisp so their blogs are easy to visually consume.
the most successful style bloggers all seem to cater really well to the mainstream consumer who can easily replicate their looks on any budget.
there are exceptions, of course. i'm speaking generally.
how much time do you generally spend on putting together each post - do you have a particular strategy to your blogging?
it completely depends on the kind of post. outfit posts take longer because i shoot and edit the images first; if i'm blogging about a product i prefer to use professional product photographs so that's often quite fast to source. i try to mix up the kind of posts i publish in a week; i wouldn't do four product posts in a row.
what do you think your point of difference is to all of the other fashion blogs out there?
locally the most obvious point of difference would be my style; but i'm a bit of an outsider in many ways.
i try not to repeat the same content seen on other blogs and will often turn down opportunities if too many other bloggers are involved unless i get to really put my own spin on it
; like the campaigns i did with Mimco.
what have you found the most difficult during your blogging experience so far? are there any reasons why you would not encourage other fashion enthusiasts to begin their own blog?
i would never discourage anyone from starting a blog but if i could offer any advice, it would be that maintaining inspiration is difficult. some days you just can't find anything worth blogging. i'd also seriously encourage any aspiring blogger to analyse why they want to start blogging and to focus on that so their blog can retain integrity.
if you had unlimited money, do you think your style would change?
not really. i'd just buy more expensive things.
maybe i'd take more avant grade risks because i could afford to not care if it didn't suit me. but my dark leanings wouldn't change.
are you influenced by any particular designers, or more so by street style?
i find tumblr is an excellent influential resource and does a brilliant job of combining runway, editorial and street style harmoniously. my favourite designers include Rick Owens, Damir Doma, Haider Ackermann, Ann Demeulemeester, Yohji Yamamoto and Alexander Wang.
does the style of the city or country that you live in affect your choice of outfit?
i used to say it did but these days i'm feeling like
Melbourne seems to be rebelling against it's infamous black black and more black style which is my style
. so whilst it definitely influenced my style to start with i take less inspiration from the city itself these days. although Melbourne's ridiculous meteorological temperaments do dictate my outfits on a regular basis!
(all images courtesy of
Sea of Ghosts
)